In the world of luxury real estate, the rules of the game have transformed, according to the Institute for Luxury Home Marketing. Today, it's not just about owning lavish possessions; it's about crafting experiences that embody opulent well-being and security.
The affluent, both old and new money, now prioritize intangible experiences as symbols of status. Gone are the days when luxury was defined solely by material wealth. Instead, homeowners are seeking more profound encounters within their properties.
"The Experience" is the new benchmark of luxury. It's about creating a haven of comfort and exclusivity, where residents can immerse themselves in a world of sensory indulgence. Think wellness retreats, spa-like serenity, and immersive entertainment spaces.
To succeed in this evolving market, real estate professionals, developers, and designers must collaborate to curate properties that blend architectural elegance with experiential excellence. The art of buying and selling luxury real estate now revolves around understanding and meeting these evolving demands.
In this transformative landscape, luxury isn't just what you own; it's how your home makes you feel. It's about embracing the shift from possessions to the art of crafting opulent experiences. Pictured above is my latest Los Gatos home on the market. This home can be the next best luxury property with just a little bit of beauty work, it already has the "experience" part done. Check it out here.
Here's a look at the numbers from July: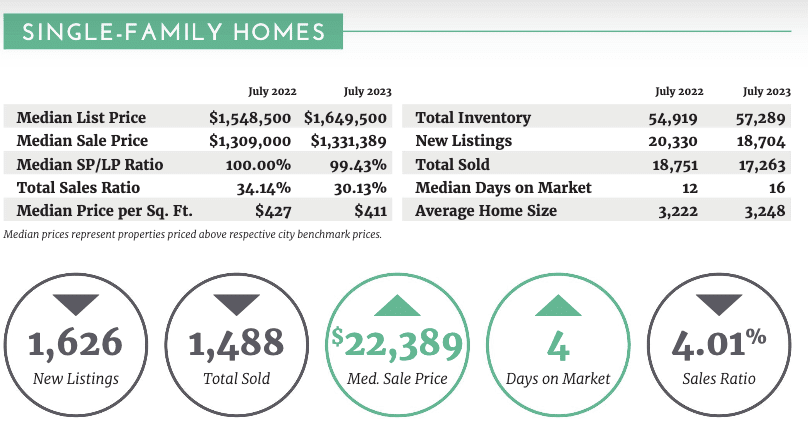 Get the August ➡️ Luxury Home Marketing Report