Realtors often appear to overlook the garage. It's not that we discount their importance, it's that they have endless possibilities. So why not tackle all that stuff you're storing for who knows when and turn your garage into a space you love? Here's my tips.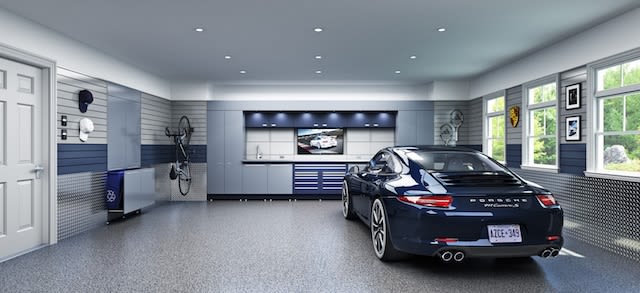 Paint
Here's your opportunity to be creative and show some personality. Bold blues, bright yellows, saturated reds, and strong greens fit perfectly here.
Lighting
Fluorescent lighting still works great in a garage, flooding the space with light. Recessed lighting is great for edging the walls above cabinetry to give a feeling of more space and light. No dark corners for cobwebs here!
Flooring
Finish concrete floors off with whatever matches your personality and your budget. Some options…polyaspartic coating (think airport walkways), epoxy coating (less expensive and still very good in fact my go-to is only $1400 for a 2-car garage), modular tiles (check Swisstrax), PVC laminate (not necessarily glued down, just roll it out) or paint (although wears off).
Storage. You don't need to get rid of your stuff, just organize it and store it in cabinets, ceiling bins, and cool wall racks. Places to check out include Spartacote, Premier Garage, California Closets and New Age Products.
I'd love to see your finished product and your newest uses for your new space. Here's a link to one of the best sources for garage inspiration and products,Garage Living, and also one of my favorite garages… HGTV's Best Home 2017.