Feng shui, simplified, is the ancient Chinese art that aims to improve your life by rearranging your home. The practice has been applied in China for centuries and has a growing following in the U.S. and around the world. The belief is that "how a building is oriented, what you have in it and where you place those things can change the balance and flow of energy throughout your house."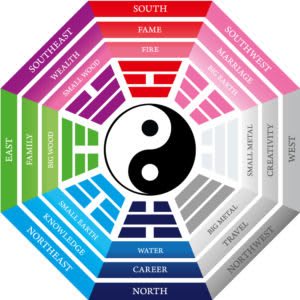 Everything from the direction your home faces to where you put your couch to how much you use a certain burner on your stove can set your feng shui right—or wrong.
That front door that faces a bathroom? Feng shui fail. "Water represents money and the toilet is the one place where water/money escapes," said MSN. You never want the first view of your home to be of the place where money can escape. Also a fail: the staircase that faces the front door (the idea is that positive energy flows right down the stairs and out the door).
As we usher in the Year of the Wooden Horse for the Chinese New Year, it's the perfect time to do as the Chinese do: "cleanse (your) home, sweeping away the bad luck and making room for the good fortune in the coming year," said Huffington Post. Read on for some great tricks for improving your feng shui and bringing some elements of the Year of the Wooden Horse into your home.
Setting the Right Tone
The principles of feng shui are critical in the front entry of a home as that is where you set the tone for the rest of the space. Also, front doors, stairways, and front windows can project clear pathways and promote good energy—or just the opposite.
"Make sure that the front door opens easily, the knob is secure and check that nothing is stored behind stopping it being opened fully," said ABC News. A "picture, mirror or table with a bowl on it" can also establish a welcoming ambiance in the entry.
Living Room
The living room is the space in which we are most likely to gather with friends and family. Use the principles of feng shui to make sure you are attracting the right kind of energy to the room.
"Cheerful and warm colors and accessories reflecting the element of fire help attract good luck and good health," said Huffington Post. "Consider accents of purple, orange and red to bring brightness to the room and kindle closeness and conversation."
Consider furniture placement carefully to encourage conversation. "Move furniture away from walls, even if just a couple of inches," said Freshome. "Pull furniture pieces together to create an area where air can flow around."
De-cluttering is one of the main feng shui ideas—and also the easiest because it involves nothing more than a bit of time and effort. Apply this principle to several rooms of your home to improve the energy throughout.
Bedroom
Sleepless in San Francisco? If your feng shui is off in your bedroom, that could explain why. Try these tips from HGTV to "promote rest and relaxation. Restful colors, soft lighting, symmetry, and luxurious linens…are all examples of good feng shui—and of simple, beautiful design."
If restful colors aren't your thing, go in the opposite direction. "Feng shui experts say that touches of 'passion colors' like red and pink in the bedroom are a recipe for romance," according to HGTV.
However, if you're looking to add some elements from 2014's Year of the Wooden Horse into your bedroom décor, "Keep your bedrooms clean and soft with off-white and soft pastels, or white with accents of brown, beige, gold or silver to introduce the metal element," said Huffington Post. "Avoid big prints this year, next year—2015, the Year of the Sheep will be the time to decorate and be fancy."
Here are a few more tips for creating a cozy, relaxing bedroom, courtesy of ABC News.
Keep electrical elements away from except for a light.
Add "stones that have a Zen feel in a small container on your nightstand to feel a sense of tranquility from nature."
Avoid putting your headboard beneath a window.
Keep the computer out—"especially on your bed since that will add fire energy and compromise your sleep quality."
Kitchen
The kitchen is the heart of the home. But if people aren't drawn to it, feng shui may be able to help. "Homeowners concerned about creating just the right 'feel' in the room where they cook, snack and socialize are increasingly turning to the Chinese practice of feng shui to make their kitchens as inviting as possible," said HGTV.
Feng shui principles for the kitchen center around the stove. "It's important that the cook be in a commanding position while working at the stove, preferably facing out into the room toward the door," said Oprah. "Many kitchens, however, have stoves facing the wall, so in order to correct this, feng shui consultants often recommend hanging something reflective like a mirror or some decorative aluminum over the stove. Also, if your kitchen is very small, a properly placed mirror can bring in more light and visually expand the space."
In addition to placement, the way the stove is used is critical in feng shui. "Whatever stove you're using, in feng shui, it's recommended to rotate the burners you use as the stove represents prosperity and this will ensure your money supply will come from various sources," said Oprah.
For kitchen color, feng shui experts remember that "fire and water elements are active in the kitchen, so it's best to stay away from fire colors like red and orange and create balance with cooling colors like white, pale green or blue."
If you are updating your kitchen for the Year of the Wooden Horse, keep in mind that "The horse is a minimalist, so keep the kitchen clean and uncluttered," said Huffington Post. "Green and gray colors and accents bring simplicity and coolness into this warm and energetic room. The horse is not fancy and is happy to live with less, so pare down."
A Few More Tips for Throughout the Home
Applying the main elements of feng shui—fire, water, earth, metal, and air—to your home can help create balance. According to Freshome. "Each of these elements works independently and collectively to restore calm and bring energy to your space."
Take advantage of natural sunlight wherever possible and add fire with "some candles and incandescent lighting," they said. "Add earth elements to your space by using the colors green, brown and sand. Images of landscapes and square and rectangular shapes will also bring these elements into your home.
The idea of water can be added to a space "by adding black or any deep, dark tones like blues, greens and purples; reflective surfaces, such as mirrors; free-form or asymmetrical shapes and any water related objects such as aquariums and fountains," said Freshome.
Promote the principle of air with live flowers and plants throughout the home that "offer fresh oxygen, improve health and increase abundance," said Huffington Post.